Cardigans. Forever in style.
Posted by LARISA CHERECHIANU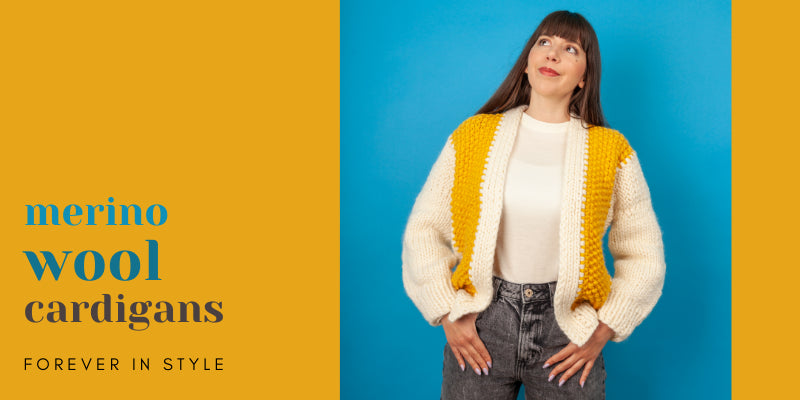 Have you ever dreamed of a piece of clothing that can give you comfort and style at the same time?
 If so, you know that it's kind of difficult to find it because of the changing needs of dressing up every day. Long days ahead, cold mornings, hot mid days, chilly evenings, so what do you wear in this case? 
For many people the answer is easy. Cardigans. They are forever in style. Let's see why!
 What do we know for sure about cardigans is that they are as timeless and classic as possible. But what we constantly learn about cardigans is that there are endless ways to wear a cardigan. Endless.
The rich color combinations and pattern varieties are giving us a whole world of possibilities, and so we can see a hand knitted cardigan being paired up with a silky elegant dress, with jeans and t-shirt or with a crop top and high waist sweatpants. It's up to you!
There's actually no rules when we talk about cardigans!
So, if you're looking for a cardigan, here are some key things to keep in mind while choosing the softest, in trend and most comfy merino wool cardigan that will quickly become the favorite masterpiece in your wardrobe. 
First - think about the design.
Make sure the pattern corresponds to your expectations. 
Second - choose the color!
If you're a color lover, I bet this is the hardest decision. So many varieties and so hard to say which is the best!
We suggest choosing by intuition is the most harmonious way to find out the color combination that really suits you!
For the current collection we select natural tones that go smooth with each other, but our most colorful piece is called  MORNING merino wool cardigan  and it comes in creatively blended shades of yellow, cream and olive green.
Third - what about size?
Usually, size is very important when we're talking about clothing, but cardigans are very generous at this part.
Oversized knitwear is so fashionable! 
Especially, our merino wool cardigans are chunky and so, most of all, onesized, with ample cuts, large sleeves, ¾ sleeves and all that makes a size to not count so much.
While not necessary to mention, some great bonus features of a Made in Roșia Montana merino wool cardigan are that it's made of organic, natural fibers, it's artisanal hand knitted and it comes from an ethical, fair trade company. 
Could we ask for more?
Now that you know a little bit more about cardigans, you're ready to focus on your needs and choose the pièce de résistance of your wardrobe, without worrying which one fits you best. 
Share with us your favorite pictures with Made in Rosia Montana merino wool knitwear! Collection 2019 Sale 70% Off Title for image